Build seawalls

INVESTMENT

OPPORTUNITIES AVAILABLE
Build structures with blocks specifically designed to build seawalls.
These blocks physically connect together, by interconnecting from within their hollow center areas, and physically lock together with blocks of the same hole patterns on the sides to be connected. Structures can be built in nearly any weather, underwater, on land, in zero gravity space, or while floating in water. Build sea walls.
cEMENT BLOCKS, sandbag blocks, floatable blocks, and more

BEFORE CONSTRUCTION --- REMOVE DEBRIS AND PREPARE SITE --- BUILD WITH INCREDIBLOCKS®
build seawalls by hand, with gasket materials in between the blocks, PHYSICALLY CONNECTing them TO EXISTING SEAWALLs, buildings, or you can anchor them to the surface of the Earth and make A custom GARDEN BED.

BUILD SEAWALLS BY HAND, by Reaching inside two blocks through the center side holes, USING NUTS, BOltS, and WASHERS, to connect the blocks TOGETHER through the side corner holes.

Gasket materials may be installed between the blocks. these blocks were specifically designed to build seawalls, with the following features: 1. Connect together with mechanical hardware. 2. Allow electrical and mechanical utilites to pass through the center of every block connected together. 3. allow faceplates to be mounted to any desired side, to help protect the structure. the strength of the seawalls depend upon the thickness of the walls of the blocks, the materials used to manufacture the blocks, and the quality AND TYPEs OF MATERIALS desired.

BEFORE CONSTRUCTION --- REMOVE DEBRIS AND PREPARE SITE --- BUILD WITH INCREDIBLOCKS®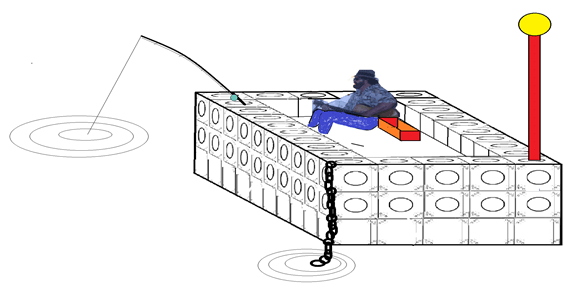 floaTING RAFTS CAN BE ASSEMBLED ON THE WATER OR ON LAND
You may buy Licensing Rights to manufacture and use IncrediBlocks® for your Seawall or construction project, or sell the blocks that you manufacture. Allow the contract to be ever in your favor. The point to be # 1 Be the Best Seawall Builder!!!
IncrediBlocks® can be assembled together in nearly any weather event. There has never been another block so designed to build structures underwater, on land, in zero gravity space, or while floating in/on water. We must build seawalls, to save shorelines, properties, and lives.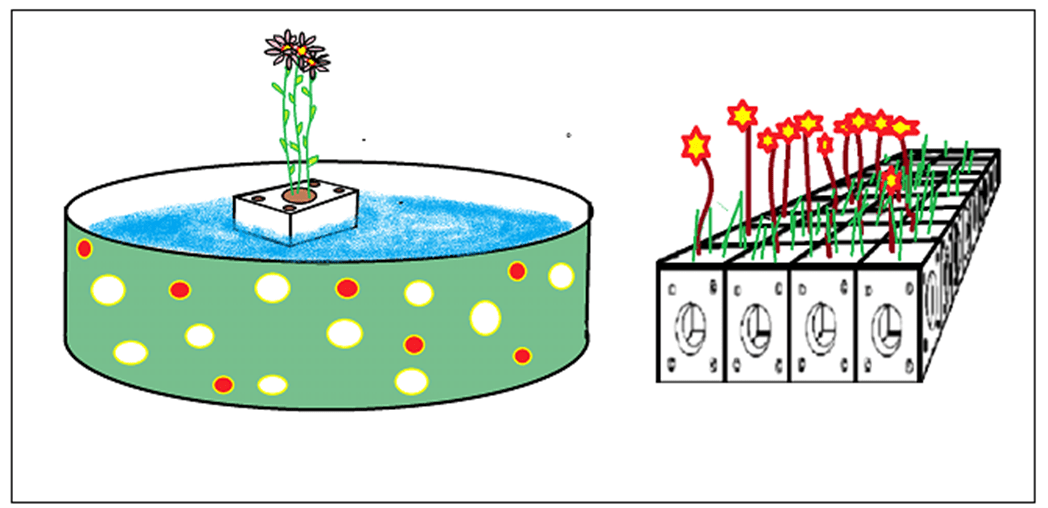 Floating gardens and connecting garden blocks
Incrediblocks® can build seawalls stronger than a lighthouse.
Incrediblocks® interconnect from inside the hollow areas of the blocks. Not all sides are required to have holes, but faceplates are available to protect any sides of any block.
Water pipes, electrical conduits, and other mechanical and electrical utilities may pass through all of the blocks connected together. Mounting IncrediBlocks®, cement blocks, to a cement slab, will help ensure a firm foundation for the rest of the blocks that will be connected together with mechanical hardware. Tornadoes and hurricances will not easily disturb cement blocks that are physically connected to the cement slab, physically connected together, with mechanical hardware and metal rebar passing through the connected blocks, before filling the entire structure with self-hardening liquified cementious materials.
Manufacturing, Distribution, Construction, Sales, and Service Licensing Rights are available. Claim your territory and save your communities.

licensing rights are available.

Building seawalls "now" can save homes, properties, and lives tomorrow.

lICENSING RIGHTS AVAILABLE

SAVE OCEAN HOMES AND PROPERTY FROM RISING OCEAN WATER

BUILD STRUCTURES WITH SPECIALLY DESIGNED BLOCKS
this invention has at least one utility PATENT pending
Please submit inquiries or payments to: IncrediBlocks LLC P.O.Box 134 Barrington, NH 03825
You can now purchase IncrediBlocks®, having the approximate dimensions and characteristics and of a 12-inch cuboid cement block with a 1-3/4-inch wall thickness, an 8-inch cubed hollow area inside, with at least two sides having 4-inch side center holes and 1/2-inch side connecting holes. To assist with Research, Development, and Manufacturing goals, the inventor will be selling these cement blocks, personally manufactured by the inventor, for $500.00 each. You may consider your purchase as your way of donating to a good and worthy mission to help protect against the effects of Climate Change. MAIL PAYMENTS TO: IncrediBlocks LLC PO BOX 134 Barrington, NH 03825 Allow 8-16 weeks for delivery. Shipping and handling fees may be required. No refunds or exchanges. These terms may be subject to change. Cancellations may be subjected to a 10% processing fee. Prices subjected to change.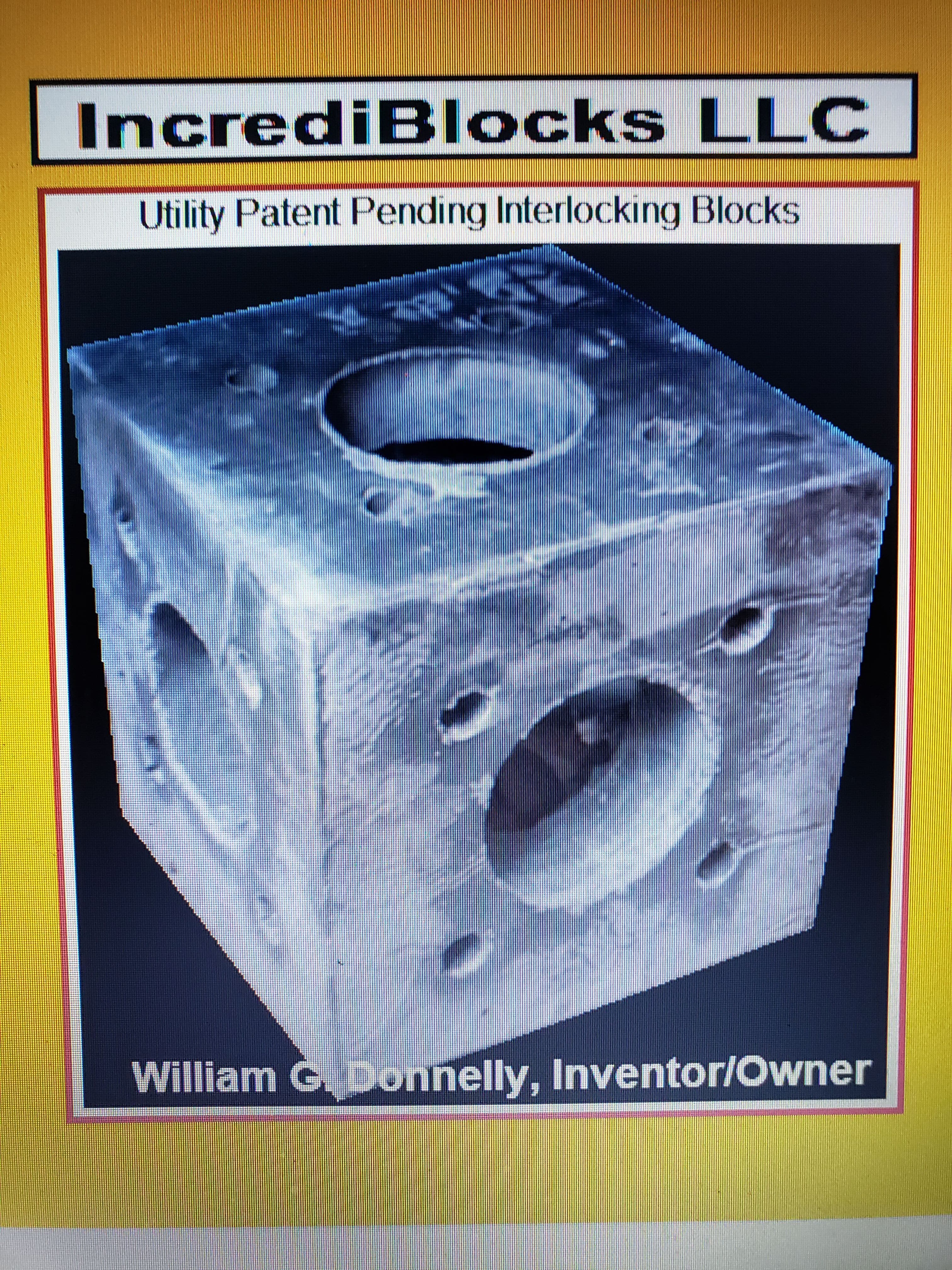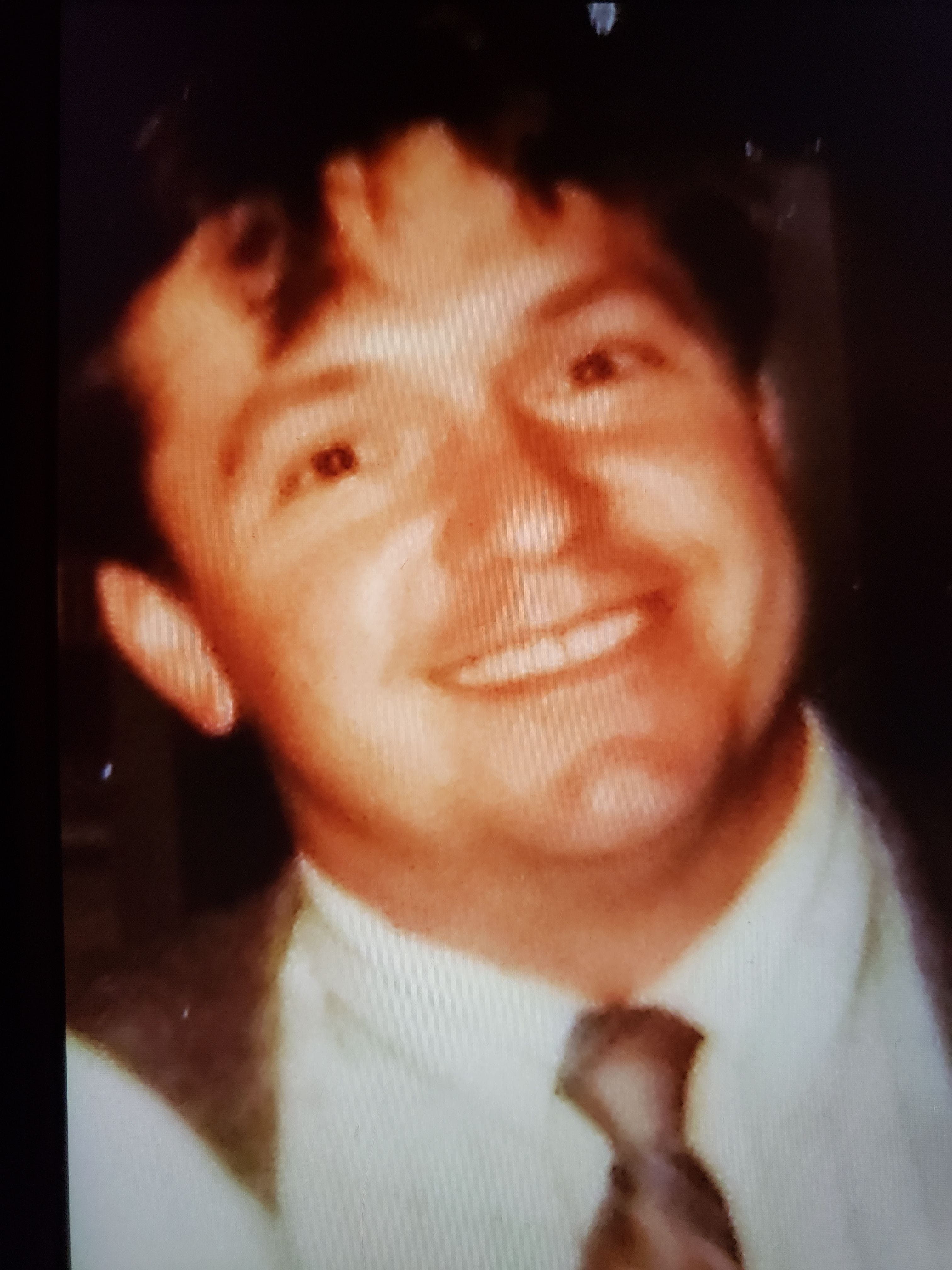 new technology: building seawall structures with blocks that connect together with mechanical hardware from within the hollow areas inside the blocks. build seawalls into lighthouses. install electrical and mechanical utilities inside the hollow blocks. Seawalls can built by hand, before the storm arrives. mortar not required. blocks may be disconnected and re-used. investment opportunites available
For questions, please contact:
IncrediBlocks LLC P,O, Box 134 Barrington, NH 03825